Keeping your own home clean may be a challenge, but if you're a vacation rental owner or property manager, you could be facing double (or even more!) of that responsibility. With the rise in popularity of VRBO and Airbnb vacation rentals, property owners are being tasked with providing a clean, cozy space for their guests more than ever before.
The cleanliness of your space affects your reputation as a vacation rental owner, and it goes hand-in-hand with giving your guests a pleasant experience. The cleaning professionals at Sweet Home Cleaning Service take pride in not only cleaning our customers' homes, but also in making VRBO and Airbnb vacation rentals feel like home away from home. Here's how we do it!
RENTAL PROPERTY CLEANING CHECKLIST
Wipe down all light switches, doorknobs, kitchen handles
Remove excess dirt under or around rugs
Remove cobwebs on light fixtures and in corners
LIVING ROOM CLEANING CHECKLIST
Disinfect all remotes
Vacuum/wipe down all sofas and be sure to vacuum beneath the cushions as well
Disinfect light switches
Dust/disinfect coffee tables
Clean the TV screen
Keep bookshelves or magazine racks tidy
Wash throw pillow covers if needed
Wash all used throw blankets
Vacuum under furniture
Remove area rugs when cleaning the floor
KITCHEN CLEANING CHECKLIST
Wipe down and disinfect all appliances, drawers and cupboards inside and out
Put all clean dishes away
Double-check that no dried food is on the "clean" dishes
Wipe down microwave inside and out
Wipe down oven and stove removing and cleaning dirty drip pans if needed
Clean off any fingerprints or smudges on cabinets
Replace the dirty garbage bag with a clean one if it has not already been done
Empty refrigerator and wipe shelves
Clean out drain filter in sink
Wipe down the backsplash behind the counter and sink
Refresh supply of towels, sponges and cleaning products
DINING ROOM CLEANING CHECKLIST
Clean out food and grime from between the table leaves and underneath
Wipe down dining room chairs
Wash tablecloths and any cloth napkins
Clean and disinfect any child booster seats or highchairs
Dust off overhead lights and remove cobwebs
Clean off any centerpieces well
BATHROOM CLEANING CHECKLIST
Clean the entire toilet, including the bottom half and behind it
Make the faucet shine with window cleaner or stainless steel cleaner
Clean the mirror
Take the extra time to scrub soap grime from the tub
Clean around the jets of a Jacuzzi tub
Clean any hair out of the drain and off the walls
Wash all towels and bathmats
Dust off any decorations
Replace all complimentary toiletry items
BEDROOM CLEANING CHECKLIST
Replace the dirty linens of slept-in beds with fresh ones
Straighten out and replace bed skirt when needed
Check between mattress and headboard for lost items or garbage
Dust the nightstand
Dust light fixtures including small nightlights
Disinfect bedposts
Disinfect light switches or remotes
Empty out all dressers and closets
Check under the bed for any left-behind items
When vacuuming the floor, get around the edges or around furniture well with the nozzle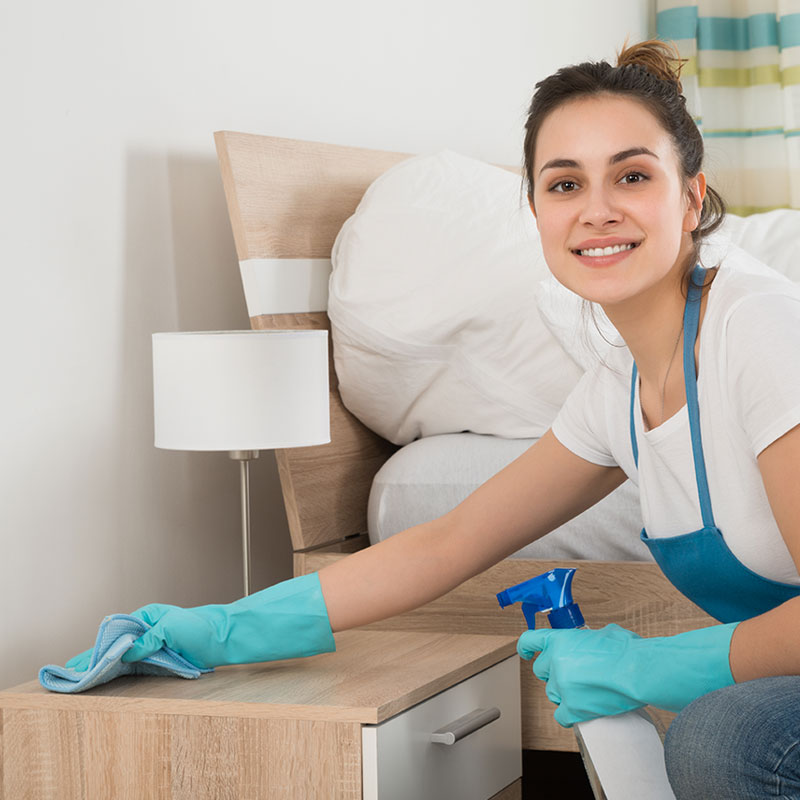 We service rental properties in Fairhope, Point Clear, Daphne, Spanish Fort, Gulf Shores, Orange Beach and Foley, Alabama.