Commercial Cleaning Services
You and your employees spend a considerable amount of time in the workplace—as much or more as you do at home. So you owe it to your business and your co-workers to keep it as clean as possible. For many businesses, a clean space is the first impression their customers get.
Trust this important task to the commercial cleaning professionals at Sweet Home Cleaning Service! We are committed to applying the same attention to detail to your office, school, hotel, medical facility or commercial space on the Eastern Shore of Mobile Bay and South Baldwin County as we would to your home.
While it may be tempting to try to keep your workspace clean yourself, it's best to entrust this responsibility to local experts like us who have proper training.
We are knowledgeable professionals who understand where to use the most effective cleaners and when to use them on the surfaces for which they are best suited. We know the difference between sanitizers and regular cleaners, and you can count on our team to use the ones that will yield the most successful results for your business.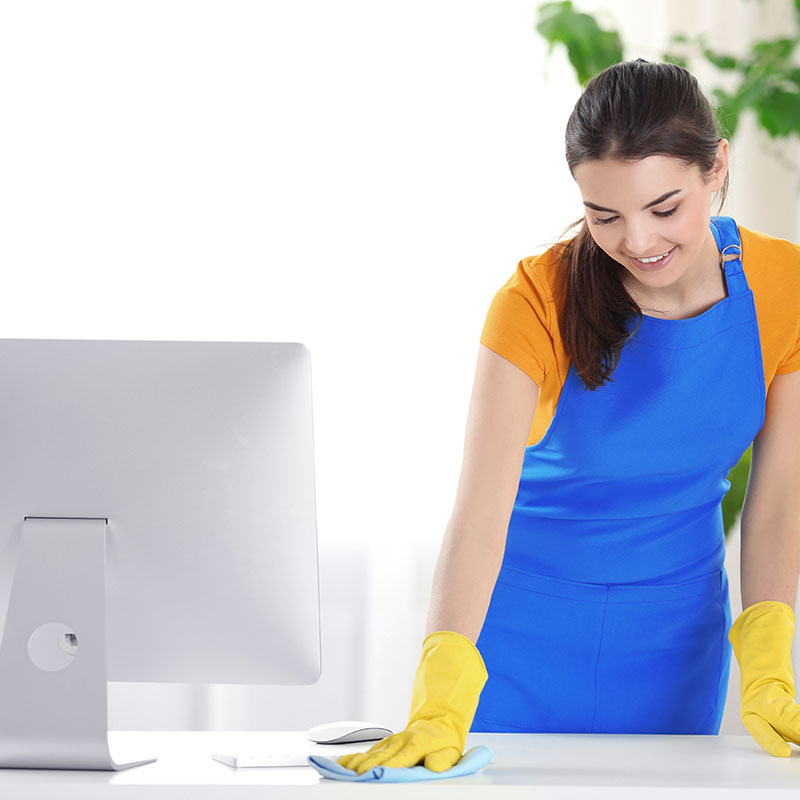 WHY USE A PROFESSIONAL CLEANING SERVICE?
Leave your commercial cleaning needs to the experts like us! It makes sense to give us the opportunity to do the job we were trained to do so you can focus your efforts on the job you were trained to do.
When considering why to hire an office cleaning company, keep the following reasons in mind:
Improve Productivity: Keeping your office clean translates into better productivity from your employees by preventing the spread of germs that could lead to illness, minimizing dirt and dust that can aggravate allergies, and eliminating distractions caused by clutter and unpleasant odors.
Prevent Illness: Routine cleaning is important any time to control germs being shared in the office. But particularly during the height of cold and flu season, sickness can quickly be passed around the office, leading to decreased productivity if your building is not properly and regularly disinfected.
Regular Cleaning: Having a monthly (or more as needed) maintenance cleaning plan in place helps ensure that maintaining a high level of productivity is a priority. Not only does this improve employee efficiency and effectiveness in the office, but also it helps prevent employee absences due to illness.
Positive Image: Particularly if your business is open to the public, presenting a tidy image leads to leaving a good impression on your customers or clients. Even if your business is private, you may host investors, board members or other officers, and you don't want them to be preoccupied with the lack of cleanliness in the office.
DAILY COMMERCIAL CLEANING CHECKLIST
For reception areas and employee workspaces and offices.
Wipe down and disinfect all touch surfaces
Empty waste bins, replace liners and wash when needed
Vacuum hard floors
Vacuum mats and carpets
Wipe chairs, tables, desks, and other types of furniture
Dust chairs, tables, desks, and other types of furniture
Mop hard floors using disinfectants
Remove cobwebs from all areas
Collect all garbage, bottles, papers, etc. from the front entrance
Ensure all areas are cleaned and arranged neatly
Spot clean painted surfaces and walls
Remove fingerprints and marks from door frames and light switches
Wipe all internal glass
Polish handles on cabinets and doors
Clean automatic glass doors inside and out
BATHROOM AND KITCHEN/BREAK ROOM CLEANING CHECKLIST
Wipe down and disinfect all touch surfaces
Remove garbage from all areas
Clean elevators and stairs
Mop/clean kitchen and bathroom floors with disinfectants
Remove splash marks from partitions around sinks and from walls
Dust the tops of mirrors, frames and cubicles
Clean, sanitize and polish faucets of all sinks
Empty trash bins, wipe down if needed and replace liners as needed
Wipe hand towel dispensers and hand dryers
Clean and polish mirrors
Stock toilet paper, facial tissues, hand soap and hand towels
Vacuum and mop all hard floors
Spot clean internal glass in doors
Disinfect and clean toilets and urinals
Polish handles on cabinets and doors
WEEKLY COMMERCIAL CLEANING CHECKLIST
Clean all glass inside and outside with a squeegee
Spray buff all hard floors
MONTHLY COMMERCIAL CLEANING CHECKLIST
To discuss your commercial cleaning needs, please contact us for a quote today!
We service commercial cleaning clients in Fairhope, Point Clear, Daphne, Spanish Fort, Gulf Shores and Foley, Alabama.